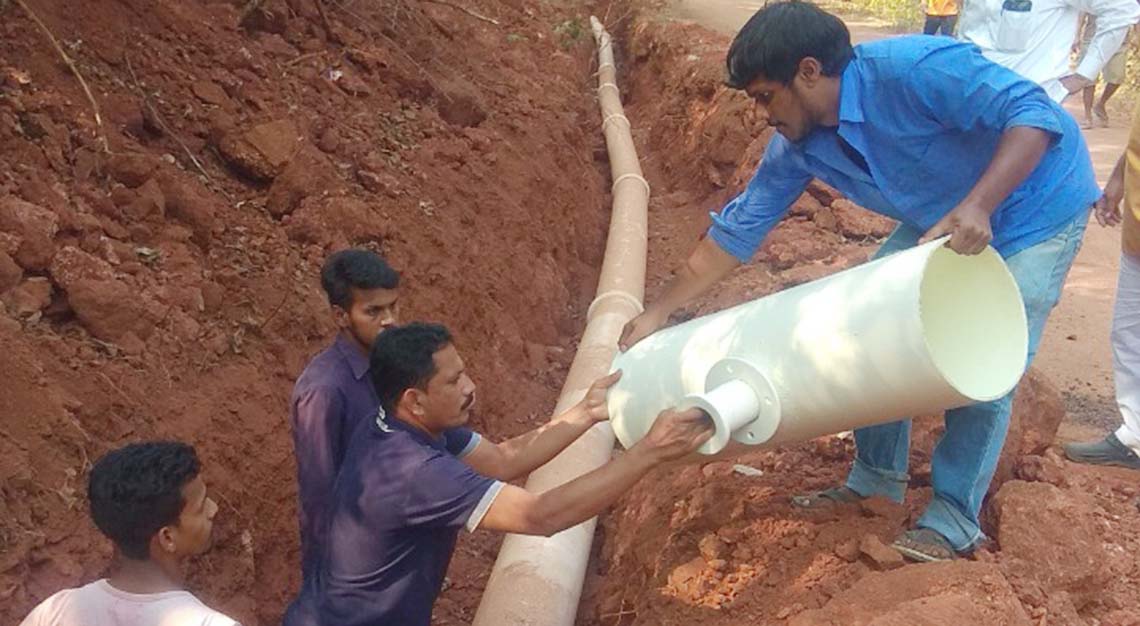 Water Supply
PVC PIPES
In applications from water delivery and sprinkler systems to sewage transport and drain-waste-vent, vinyl plays a critical role in providing reliable, durable piping service.
Piping is a crucial, functional part of most buildings, and the vinyl pipe offers unsurpassed reliability and sturdiness. Although seldom seen, it is needed to deliver clean water for drinking and other purposes. It is also needed to convey wastewater away from buildings for treatment and subsequent reuse. A variety of piping materials is available today. Foremost among them is polyvinyl chloride or PVC.
PVC is:
The predominant material used in drain, waste and vent applications.
Used extensively in cold water delivery systems to and for buildings.
Formulated as chlorinated polyvinyl chloride (CPVC) pipe for use in hot and cold water delivery systems in buildings.
Used in larger diameter piping applications outside buildings for water distribution and transmission, sanitary sewers, storm sewers, and culverts and industrial piping systems.
PVC pipe is available in a variety of lengths, diameters, and pressure classes. It has a full complement of standard fittings, valves and couplings.
And it is compatible with other pipe materials, so it can be specified for either new construction or system upgrades.
HDPE PIPES
Polyethylene has been successfully used for the safe conveyance of potable and wastewater, hazardous waste, and compressed gases for many years. Two variants are HDPE Pipe (high-density polyethylene) and the more heat resistant PEX (cross-linked polyethylene, also XLPE).
PE has been used for pipes since the early 1950s. PE pipes are made by extrusion in a variety of sizes dimensions. PE is lightweight, flexible, and easy to weld. Its smooth interior finish ensures good flow characteristics. Continuous development of the material has enhanced its performance, leading to rapidly increasing usage by major water and gas utility companies throughout the world.
The pipes are also used in the lining and trenchless technologies, the so-called no-dig applications where the pipes are installed without digging trenches without any disruption above ground. Here the pipes may be used to line old pipe systems to reduce leakage and improve water quality. These solutions are therefore helping engineers to rehabilitate antiquated pipe systems. Excavation is minimal and therefore the process is administered quickly below ground.
Also for PE pipe material, several studies demonstrated the long record with an expected lifetime of over 50 years.
Cross-linked polyethylene is often brought up as XLPE or PEX. It is a thermoplastic material that will be made in three alternative ways depending on how the cross-linking of the polymer chains is being made. PEX was developed in the 1950s. It has been used for pipes in Europe since the early 1970s and has been gaining rapid popularity over the last few decades. Often supplied in coils, it's flexible and may, therefore, be led around structures without fittings. Its strength at temperatures starting from below freezing up to almost boiling makes it a perfect pipe material for decent and cold water installations, radiator and underfloor heating, de-icing and ceiling cooling applications
PVC-O PIPES
PVC-O Class 500 Pipes are technically superior to any piping system confirming to BIS 16647:2017/ISO 16642:2014/AWWA/DIN/BS/WRAS and costing lesson projects due to its best qualities. Adopting PVC-O Class 500 Pipes in Water Board projects and other schemes will reduce the cost of projects at least by 20-40% wherever high-pressure pipes are required InDesign (10kg to 25kg pressure pipes) without compromising design quality or material quality and ensuring long term sustainability of the piping system. Ease in installation and handling is one of the major characteristics of OPVC technology. OPVC stands out to be a high performance, cost-effective, and GREEN solution for water supply. Lowest carbon emission and organic-based stabilizers have categorized OPVC as a GREEN product.
OPVC being the higher material specifications than PVC having 50 MRS and 70 MPa, which ensures that the life of OPVC extends to a lot further than 100 years. Moreover, layer structure and stretched molecules give further life expectancy to OPVC Pipes of more than 100 years. The life expectancy of DI Pipes being 75years as against that of OPVC is more than 100 years, more than DI Pipes. As long as it is laid down properly, installed, and designed properly, it has been observed that OPVC life expectancy extends to more than 100 years. The same has been concluded in two universally accepted internationally researched publications which are enclosed herewith.
Some of the highlights of PVC-O Class 500 Pipes:
Now available from 110mm to 630mm dia, – 12.5kg, 16kg, 20kg and 25kg pressure rating made in India. By 2019 last quarter, up to 800mm.
Lower Weight: Compared to PE 100 Pipes – 2.5times lower weight and DI Pipes – 8 times lower weight.
Higher ID: These Pipes have higher ID compared to PE 100 and DI pipes,
ALLOWING MORE FLOW OF WATER.
The flow of Water: C-150 allows more flow of water.
Lowest WATER HAMMER EFFECT: Due to its ductility, OPVC pipes are the safest pipes at adverse negative pressure.
Easy Installation: Push-fit joint easy and fast. No welding, no solvent cement, and no leaks at all.
Areas for Installation: Can be installed on hilly slopes, forest areas, high water table areas, in all-terrain OPVC pipes can be laid easily. Due to its lightness and push-fit joints, up to 315mm no heavy equipment required to lift pipes.
Lowest Carbon Emission: Carbon emission is the least out of all piping systems.
GREEN Product: No heavy metals in the pipe, most GREEN product.
Lowest Pumping Cost or Energy Cost: These pipes have the lowest pumping and energy costC150 and higher ID.
On Long Installation: Up to 22deg, no bend is required as the pipe is flexible enough to take the bend.
Faster in Installation: Compared to any other piping system, these pipes are faster to install whereby reduces project completion time and costs both.
Installation Trenches are normal excavation: No need for concrete bed like GRPF pipes, joints are push joints, no need for welding like PE pipes, being lightweight 8 times the lower weight than DI pipes, no heavy equipment required to install up to 400mm pipes except trenching JCP.
PVC Specials: These are available which cost less than DI specials like bends, service joints, and reducers.
Homogeneous Socket: The main specific feature which is an add-on of the technology we promote is homogeneous single-process socketing at the time of Orientation. Socketing at the time of Orientation enhances the strength of Socket, equalling it to that of PVC-O Pipe.
Push-Fit Joints: This technology provides Push-Fit joints with Anger Loick EPDM rubber with PPLip conforming to ISO standards.
Length: 6meters including Socket. Diameter wise Overlapping lengths are respectively 110mm– 02.92%, 160mm – 03.33%, 200mm – 03.75%, 250mm – 04.50%, 315mm – 05.42% and 400mm– 06.25%.
Pipes Sustainability: Pipes shall convey water under variable temperature conditions ranging1Deg C to 45Deg C.